Vapor Digital Gauge Kit
The all-in-one dashboard with speedometer and bar graph tachometer.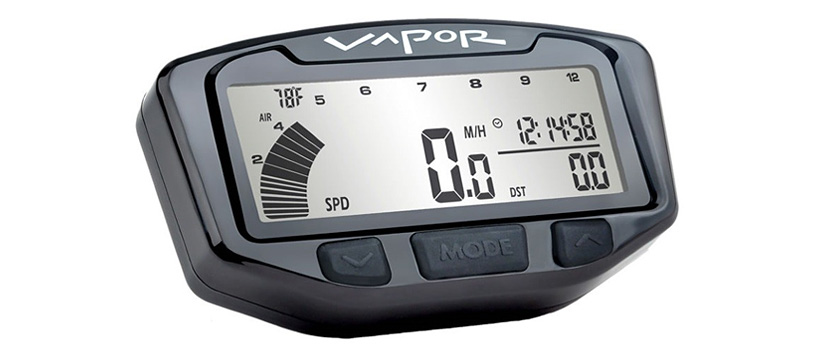 Vapor Digital Gauge Kit is carefully crafted and constructed for the off-road or on-road enthusiast from a combined effort of experts in software, electrical and mechanical design. Vapor's large digital tachometer bar graph is easy to read and understand. This digital gauge has many other useful features including speed, engine temperature, adjustable distance, stopwatch and odometer. Vapor also features two LED indicators for customizable shift indicators and engine temperature warning.

The Vapor main feature is a large, well lit RPM tachometer graph. Vapor is useful as a motorcycle speedometer and side by side utility vehicle or ATV speedometer (or any machine with a wheel.) Vapor's large digital tachometer bar graph is easy to read. The digital gauge has many other useful features like time keeping, engine temperature, resettable distance, and odometer.

Speedometer


Real-time RPM bar graph Tachometer


Records ambient and engine temperatures


Permanent Odometer


Clock records ride time and is also a stop watch


Bright white backlit LCD screen


Will include mounting hardware, speed sensor, magnet kit, and temperature sensor

SPEED - Current Speed - Maximum Speed - Selectable MPH/KMH Display
TACH - Real-Time RPM Bar Graph - Numeric RPM Readout - Dual Programmable Shift Lights - Up to 20,000 RPM
TEMP - Ambient Temperature - Engine Temperature - Dual Programmable Temp Lights - Exact Model Fit Temperature Sensors -
Selectable °F/°C Display
DISTANCE - Adjustable Distance - Permanent Odometer - Selectable Mile/Kilometer Display
TIME - Clock - Trip Time - Hour Meter - Stop Watch - Ride Time - Accumulated Ride Time - Permanent Hour Meter -
Selectable 12/24 Hour Display
POWER - Includes Power Connection Fits All Machines - Accepts Any Power Input (AC/DC) -
Auto Switch to Internal Power if External is Removed - Permanent Memory Guarantees Data is Never Lost
PLUS - Custom Designed for Exact Model Fit - All Parts Included to Complete Installation - Trail Tech One Year Warranty -
Unlimited Free Trail Tech Phone and Email Support - Waterproof Connections Included - Bright White Backlit LCD Display -
Mounting Solution for Most Applications.