Striker Digital Gauge Kit - Striker is a must have for anyone with electric start.
With programmable indicator lights, be warned when your battery is overwhelmed.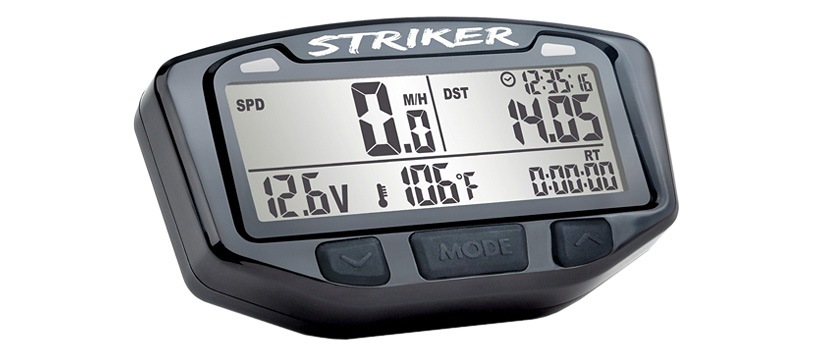 Don't get stuck on the trail not knowing if your dirt bike or ATV/UTV will start again after turning it off. The Trail Tech Striker speedometer/voltmeter digital gauge displays your vehicle's battery voltage and lets you know if the battery has enough juice to restart the vehicle the next time you hit the ignition. Keep track of your speed, distance, and time of day; as well as important maintenance reminders and engine temperature.

Keep track of your speed, distance, and time of day; as well as important maintenance reminders and engine temperature. Striker builds on the 10 years of experience Trail Tech has in making model-specific gauges for motorcycles.
VOLT - Voltage - Maximum Voltage - Minimum Voltage
SPEED - Speed - Average Speed - Maximum Speed - MPH/KPH
TEMP - Engine temperature - Ambient Temperature - Maximum Engine Temperature - Temperature Alert LED's -
Model-Specific Sensors - °F / °C
DISTANCE - Trip distance - Odometer - Adjustable Distance - Miles / Kilometers
CLOCK - Hour Meter - Ride Time - Stop Watch - Accumulated Ride Time - 12 or 24-Hour Display
POWER - White backlit LCD display - Accepts AC/DC Input - Auto-switch to Internal Battery - Permanent Memory -
Data is never lost - Waterproof Design
MAINTENANCE - Oil Reminder - Adjustable Maintenance Reminder
PLUS - Remote Switch Compatible - Model-Specific Sensors - Custom Design Kits for Exact Model Fit -
Unlimited Phone and Email Support - Aluminum Protectors Available (sold separately)
Trail Tech Striker Remote Switch (Optional)
The Remote Switch for Striker computer, 43cm black wire, optional, not included in computer kits. The remote switch mirrors the buttons on Striker. It is not required to enable any extra features.

Lap timer mode is designed for race riders and time trials. Hit the lap counter button each time around the track -- compare lap times on the fly with pace lights, or wait and review precise lap information afterwards. Remote switch required for lap timer mode.

Rally mode is for rally and enduro racing, which requires the rider to be able to adjust the trip distance meter quickly and easily. During rally mode, edit the adjustable distance meter up or down with the remote switch, while the main computer buttons function normally. Remote switch required for rally mode.