| | |
| --- | --- |
| | Replica Lower Fork Cover Set |
All Acerbis replica plastic has the original factory shape of the OEM plastic of each specific model. Sold as a pair.
Availability Guide

:
If you order an item that is on backorder, we will not charge your card until the order is ready to ship.
= Normally ships the same business day
= Ships in 1 to 2 business days
= On backorder from the manufacturer
| | | | |
| --- | --- | --- | --- |
| | Acerbis KTM Lower Fork Cover Set | Cost | Add To Cart |
KTM Lower Fork Cover Set
Fits SX/SX-F/XC/XC-F

2015-19

, EXC/XC-W/XCF-W

2016-19


Colors: 2016 Orange, 2016 White, Orange, Yellow, Black or White
AC-2401265226 - 2016 Orange
AC-2401260237 - Orange

(in stock)


AC-2401265413 - 2016 White
AC-2401260002 - White

(in stock)


AC-2401260005 - Yellow

(in stock)


AC-2401260001 - Black

(in stock)




(Note: "2016 Orange" matches the new orange for 2016 models)


AC-240126

$31.99


MSRP $34.95
KTM Lower Fork Cover Set
Fits SX/SX-F/XC/XC-F

2008-14

, XC-W/EXC 125-530

2008-15


Colors: Orange, Black, White or Yellow
AC-2113750237 - Orange

(in stock)


AC-2113750001 - Black

(in stock)


AC-2113750002 - White

(in stock)


AC-2113750005 - Yellow
AC-211375

$31.99


MSRP $34.95
KTM Lower Fork Cover Set
Fits SX/MXC/EXC 125-525

2000-07

(not for 2007 SX/SX-F)


AC-2113740237 - Orange
AC-2113740001 - Black
AC-211374

$31.99


MSRP $34.95
KTM Lower Fork Cover Set
Fits SX 85

2013-17

, Freeride

2016-17


AC-2319630001 - Black
AC-2319630002 - White
AC-2319635226 - 2016 Orange
AC-231963

$31.99


MSRP $34.95
KTM Lower Fork Cover Set
Fits SX 85

2004-12

, SX 105

2004-11


AC-2253090001 - Black
AC-2253090002 - White
AC-225309

$31.99


MSRP $34.95
KTM Lower Fork Cover Set
Fits SX 65

2009-18


AC-2253020001 - Black
AC-2253020002 - White
AC-2253025226 - 2016 Orange
AC-225302

$31.99


MSRP $34.95

Acerbis KTM Replica Lower Fork Cover Set - Larger Images

AC-240126 (Note: "2016 Orange" matches the new orange for 2016 models)



AC-211375



AC-211374 Orange / Black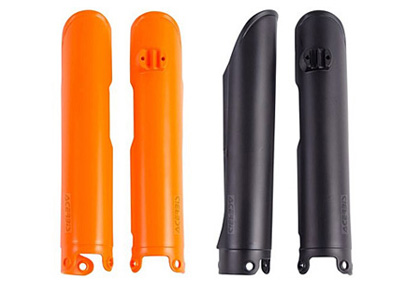 AC-231963 Black / White / 2016 Orange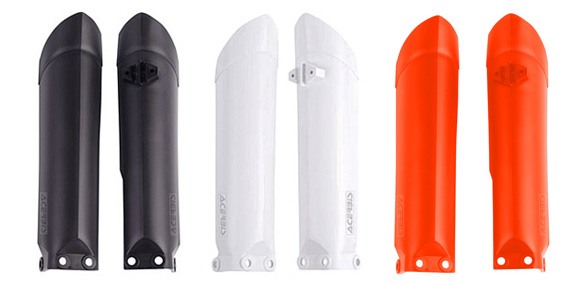 AC-225309 Black / White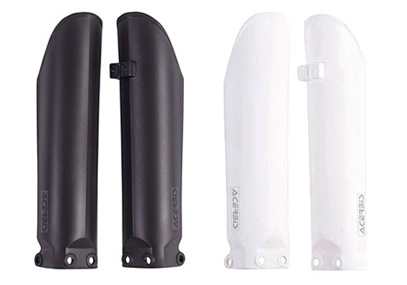 AC-225302 Black / White / 2016 Orange