Core EXP, EXP and z-Start Pro are all Auto Clutches. An Auto Clutch is a centrifugal force actuated clutch that automatically engages and disengages the clutch in relation to RPMs. The Auto Clutch automatically feeds out the clutch in the same way you feed out the clutch lever when starting from a stop. The rider only needs to turn the throttle to increase RPMs, to engage the clutch and go. It is not an automatic transmission, you must shift the gears. The benefit is that the Auto Clutch will do the "feed" automatically and consistently, allowing you to be free to focus on other aspects of your riding. All three Rekluse Auto Clutches allow retention of one's clutch lever to manually override the Auto Clutch at all times. As with any standard clutch, the rider can still "feed", "fan", "slip" or "pop" the clutch and do motocross style starts. Rekluse Auto Clutches are performance enhancing for full sized bikes and ATV's.

Rekluse auto clutches feature centrifugally activated anti-stall technology. These innovative dirt bike products:


Provide the ability to take off and stop in gear without using the clutch lever


Deliver smooth power engagement and increased traction


Improve low speed/technical maneuvering


Enhance your riding experience by making it more fun and less demanding


Extend the life of your clutch pack
How does it work?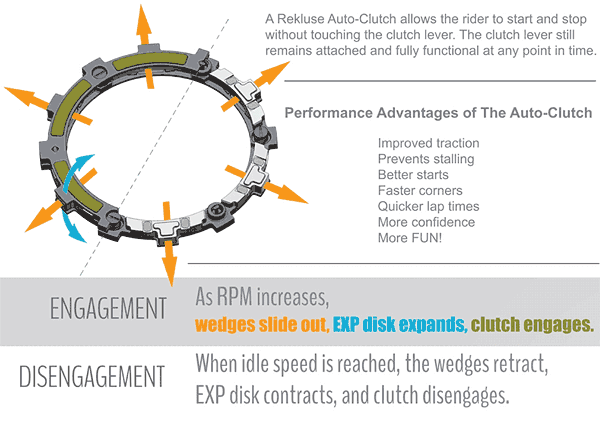 A traditional manual clutch uses springs to push a pressure plate into the clutch disks to keep the clutch always engaged until the rider pulls in the clutch lever. Pulling in the clutch lever pushes the pressure plate away from the clutch disks to manually disengage the clutch. An automatic clutch keeps the pressure plate away from the clutch disks when the engine is off or at idle. When the throttle is applied and the engine speed increases, a centrifugal device within the clutch expands, engaging the clutch disks.