Premium Boots, the kind of boots that REAL RACERS wear. Boots like the Gaerne SG-10's. Dual composite rubber soles, lightweight alloy, replaceable buckle system, exclusive Gaerne "grip guard";, floating "razorback"; with a built in ankle alignment system, supercross shank as well as a heel bumper and memory cell inner foam liner that completes the construction for an unforgettable fit.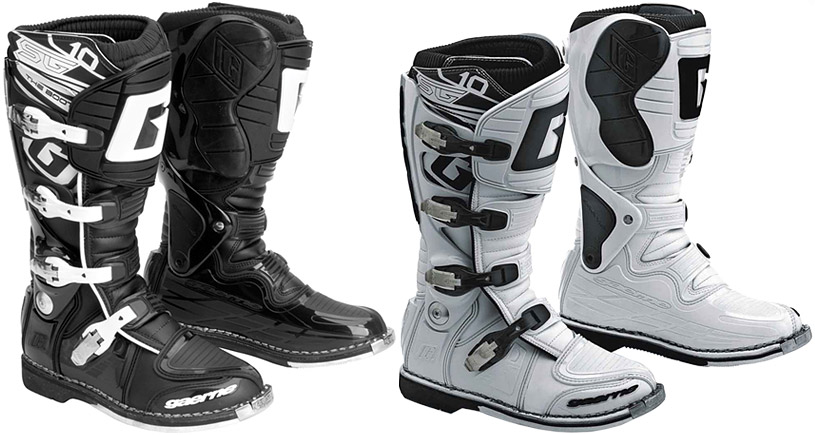 Some have called this boot "THE PERFECT 10 \x96 The standard by which we now measure all motocross boots."; (Transworld Motocross Magazine) Others have praised the fit the comfort and the long lasting quality.
SG-10 Boot Features: Gaerne
Made in Italy with hand-selected full-grain leather
Floating "Razorback" with built-in ankle alignment system flows
with your natural movement and ensures a great fit
Dual composite soles for durability
Lightweight alloy adjustable and replaceable buckles
Shock absorbing inner footbed liner
Availability Guide: If you order an item that is not in stock, we will not charge your card until the order is ready to ship.
= Normally ships the same business day
= Ships in 1 to 2 business days
= Backordered from supplier
| | | | |
| --- | --- | --- | --- |
| | SG-10 Boots - Offroad / Motocross | Cost | Add To Cart |
OVERSTOCK-SALE! Limited to stock on hand. Subject to prior sale.
SG-10 Boots - Black - Size: 8
GA-SG10BLK8-CO

$339.99


MSRP $499.95
SG-10 Boots - Black
Size: 6, 7, 8, 9, 10, 11, 12, 13,—
GA-SG10BLKxx
$399.99


MSRP $499.95
SG-10 Boots - White
Size: 6, 7, 8, 9, 10, 11, 12, 13,—
GA-SG10WHTxx
$399.99


MSRP $499.95