Enduro Engineering Products
Handguards
Complete Seats
Disc Guards
Radiator Braces
Skid Plates
Axle Pulls
Lower Right Fork Leg Guards
Bar Risers
Handlebar Clamps
Heat Shields Closeout Sale!
Lighting Kits
Clutch Slave Cylinder Guards
Spark Arrestor End Caps
Route Sheet Holders
License Plate Holders
Grab Handles
Power Valve Tool

Grip Heater Kits - 12 Volt
Tired of hugging your engine or exhaust pipe to keep your hands from freezing? Grip heaters are required equipment for anyone who rides in cold weather. If your motorcycle or ATV has a headlight or battery and charging system, and you don't use grip heaters, you don't know what you are missing.


These grip heaters feature self adhesive pads that are installed under your favorite grips to keep your hands warm in cold weather. Power is drawn from the bike's lighting system, and grip temperature is controlled by a 3-way switch (Low - Off - High).
Availability Guide

:
If you order an item that is on backorder, we will not charge your card until the order is ready to ship.
= Normally ships the same business day
= Special order, ships in 4 to 7 business days
= On backorder from the manufacturer
| | | | |
| --- | --- | --- | --- |
| | Grip Heaters for Motorcycles and ATVs | Cost | Add To Cart |
12 Volt Grip Heater Kit
Use on any motorcycle or ATV with a battery and charging system or a lighting coil. Install under grips.
EE-15054

$35.99


MSRP $39.95
12 Volt Grip Heater Kit - 3 Packs
Equips 3 Motorcycles or ATVs. Come in pairs.
EE-15054-3



$99.99




MSRP $119.85
Trail Tech 3-Position Handlebar Switch plus Kill button
Can be used for Grip Heaters or Headlight.
TT-040-HBS-05

$29.99

Enduro Engineering Grip Heater - Larger Images
NOTE:
On motorcycles with twist-grip throttles, the right grip will always be thinner than the left grip in order to keep the outside diameter the same. This means that the right grip will always be warmer than the left grip when using grip heaters. We know of people who wrap the left end of their handlebar with a single layer of athletic tape to reduce heat transfer to aluminum handlebars. If you choose to try this, make sure you use safety wire to secure your grips. Do not over tighten safety wire over the grip heater grids.


Grip Heaters Kit - EE-15054 / EE-15054-3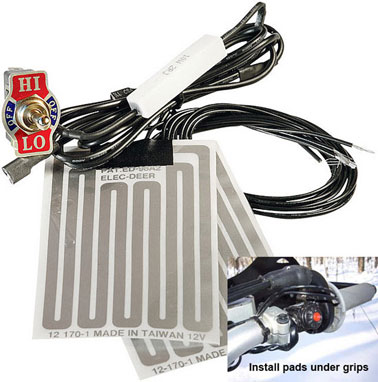 Trail Tech Handlebar Switch with Three Position plus Kill Switch - TT-040-HBS-05
Improved 3-Postion (Hi-Lo-Off ) plus Kill Combination Handlebar Switch

Rugged construction switch with high-tactile rubber slider.

Stainless slider shaft guaranteed not to break.

Works wet.

22mm wide.

Six 400mm, 18 gauge, 105"C wires.

Switch with universal connectors available from most major distributors and dealers.

Model-Specific versions included in most Trail Tech model-specific X2 motorcycle headlight kits. No cutting or splicing required.

High-tactile rubber slider switch.

Insert molded rubber grommets keep installation looking clean.

High current contacts handle more power than other switches (will not melt.)