Authorized Dealer for:
xx / oo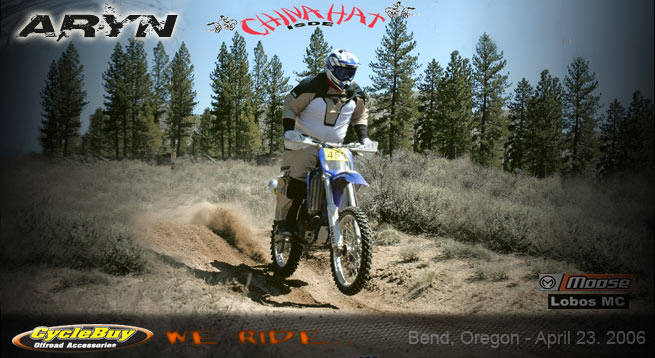 5'11'' 300 lbs. 2007 YZ 450 / Skill Level: Lower B level rider / Years Riding 19 / In the Industry since 1998

I bought my first dirt bike when I was 13 years old from a crazy old neighbor for $50.00. It was a 1971 Penton 125 and it was rough to say the least. At that time the only mechanical knowledge I had was making my grandfather's old lawnmower run to make extra money so needless to say the bike only ran for about a week until the engine seized up. (Who knew that 2 strokes needed oil mixed with the gas?) Luckily though we had a lot of hills where the bike was so we became really good at riding down the hill and pushing the bike back to the top. My mom moved us down to the Oregon coast after that summer so I rode a lot of sand dunes and forest service roads. There wasn't a lot of designated trails in the forest land near us but we were able to piece together some decent woods riding by combining some game trails with the old overgrown skid roads While the sand dunes did not do a lot to make me a better technical rider, we did have a lot of fun weaving in and out of the tree islands and always manage to find some great hill climbs. It also provided a fairly soft landing for when we decided to fall over, which was often!

Over the course of the last 19 years and especially since I entered the industry I have had the opportunity to own many bikes, In fact if I sat down and added up all the dirt, street, and atv's it would probably be close to my age! A few of the bikes that really stand out to me were my first bike, The old green Penton, My first modern big bike was a 96 CR 250 and yes I did remember to mix oil with my gas on that one. My 01YZ 426 was probably my favorite bike and one of the main reasons was that was the bike that I had when I first started entering events so it really opened me up to a lot of different terrain.

Over the last 2 decades I have amassed many great memories that revolve around motorcycles. Though many are small and significant to myself a few that stand out would be finishing my first off road race, Getting my first gold medal at the China Hat I.S.D.E, and passing my dear friend Tom twice on the Oxbow every Sunday for almost 2 years in a row.

After high school I decided that I was going to chase the dream and make a living in this industry, so I moved to Phoenix to attend Motorcycle Mechanics Institute to become a factory certified mechanic. I worked as a prep mechanic while going to school and after I graduated I moved back to Florence Oregon and went to work at Florence Yamaha as a hybrid technician/parts person. As much as I did and currently still do enjoy working on motorcycles I found out that I could make more money and have more fun with people than I could with pistons. I transitioned into full time sales and parts and slowly began to learn every aspect of the dealership. After a brief hiatus with Snap on Tools I came back to Florence as the General Manager. The dealership sold to new owners in 2006 and I had an offer from a large Multi-line dealer to take over the parts department. It was a great experience and taught me a lot about competing markets and definitely opened my eyes to a much more diverse crowd than I found at the off road destination dealership. When the opportunity came I quickly took advantage of it and came over to CycleBuy. I have known Bob and Belle for a while now and was eager to be a part of the team selling quality parts and accessories for the side of the sport that I love.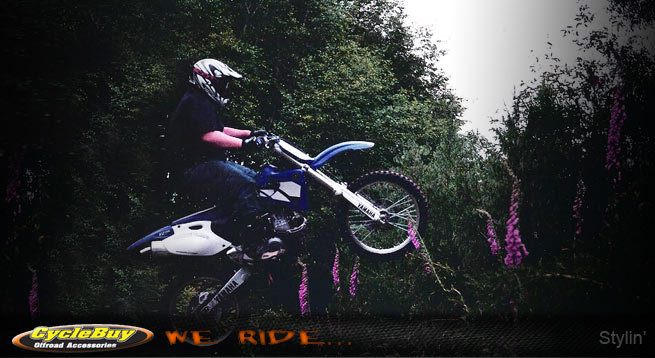 My Idea of the perfect day of riding is a trip to Central Oregon. I am not a great technical rider and the openness of the desert and the higher speeds of the trails seems to agree with me. Plus it always makes for a great weekend if I can pull a large trout or steely out of the Deschutes or the Metolius after a fun day of riding.

Due to my intermediate riding abilities I have found much value in items that help me become a better rider. Anything that can make tough terrain easier, my body more comfortable, and put more pleasure in the sport I love. Also, like most people I like stuff that looks cool as well. I believe that we offer the best products in the industry and while it may not make you a better rider, each of the items we sell will help you enjoy the sport that you love more and may even add more fun and wider grins to outings as well.

Some of the goals I have, not only here at CycleBuy but also in life is to help people. I truly hope that every time a customer interacts with me that they leave with a smile and feeling like they were treated well and are confident that the item they get was the item they ordered. I take a lot of pride in what I do and want to make sure it comes through in the finished product. Rest assured that if you call me with a question or a problem I will get the right answer to you, or get you to the people who can. I am surrounded by people that share my passion and enthusiasm for this sport and feel we are truly blessed to be able to make a living selling fun. I hope that you give us a chance to put some cool bits on your bikes and smile on your face.




Happy Trails!
cyd03